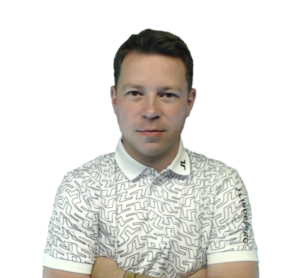 Milan Macura
Milan is a professional bridge player ...
Since 2010, Milan played tournaments all over the world at the top level. He played several Nationals with Michal Kopecky and Lars Artur Johanson. He is a silver medalist from the European Winter Games BAM 2016 and he has medals from various International tournaments.
You can hire Milan as a partner or a team member with his pro partner.
He has been involved in youth coaching since 2009. In 2020 he became the Chief coach of the Czech National Youth team and in 2022, he coached the U16 team that qualified for the World Youth Championships in 4th place. It was the best result at the European Youth Team Championship in Czech history. His goal is no smaller than winning the EC and WC.
Milan served in several administration roles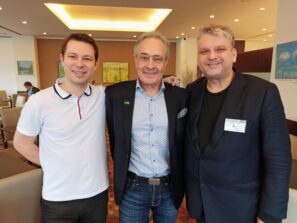 With WBF president Jan Kamras and Pavel Teňak
He was a president of the Czech Bridge Federation
Milan represented the Czech Bridge Federation as a president from January 2012 till December 2020. 
He is still working for the federation in a role of Chief Youth Coach.
He is a member of EBL committees
Milan is a member of the EBL Youth Committee since 2013. He has organized sever coach seminars.
He is also member of the EBL Small Federation Committee since 2018.
Milan is a multiple National Champion and
World Youth Champion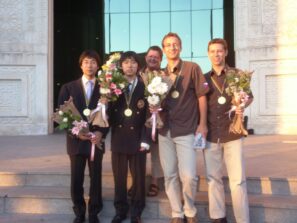 Czech-Japan team at 1st World Youth Congress
Milan is a World Champion...
In 2009, he won the 1st Youth Congress with Michal Kopecky, Hiroaki Miura, and Noriaki Koike in a Czech-Japan team.
... and a European Champion
He won the European Small Federation Games in Košice in 2013 with Michal Kopecký, Eva Bahníková, and Josef Kurka.
He is multiple National Champion
Milan managed to win all Czech Major tournaments and Championships and he is at the top of the new Czech ranking since its beginning in 2018.
Milan is a University graduate and teacher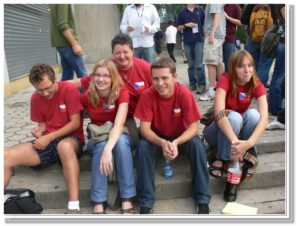 University team: Michal Kopecky, Jana Jankova, Ine Gielkens, Milan Macura, Pavla Hoderova
Milan has a Bachelor's
degree ...
... from informatics at the Czech Technical Univerity in Prague, graduated in 2007.
He also has a Master's degree ...
... in statistics at the University of Economics, graduated in 2011.
He is teaching bridge ... 
... at the Charles University and runs afterschool class at Gymnazium Elišky Krásnohorské in Prague.
He participated at University ... 
... Championships between 2003 nad 2012. Since then, he is coaching the Czech university team.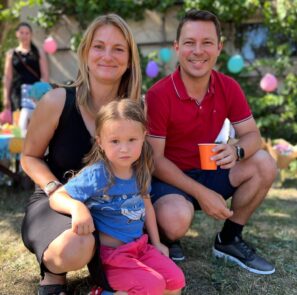 Milan with Michaela and Amanda
Milan is married to Michaela "Mandy" Macurova
They got married in 2016 and live in Prague. They played a European Mixed Championships in Montecatini.
Besides Michaela's main job in financing, she works in MM Bridge Academy. She is also a bridge player and golfer. M+M won several Czech titles together. 
Milan and Mandy have one daughter – Amanda
Amanda was born in July 2019 and she is an amazing girl. Always smiley and fun, with an appetite to compete and win. 
She is our inspiration and time will tell if she becomes a bridge and golf champion.
Milan loves golf and is a sportsman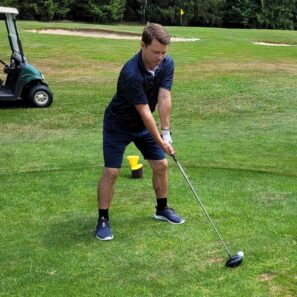 Milan hits the driver over 250 meters.
Milan's favorite hobby besides bridge is golf
He started playing golf with his wife in  2021 and golf has become his passion ever since. He won many trophies during his first years at Hostivar Golf Club in Prague. After the first season,
he had a handicap of 21.5.  During the second season, he dropped to HCP 12.8, but his real goal is to become a scratch golfer.
Milan played several sports on national level
He started with handball from the age of 7 till 18 when he moved to Prague. Then he picked up squash and played in the 2nd national league. He played in the European and the World Championships in crossminton. He likes to play all kinds of sports, especially new ones, e.g., roundnet or padel, but he enjoys pub sports as well.